3 easy ways to tweak your loyalty program to get more customers bursting through your door
So you've got a nice loyalty program in place. 
You've probably spent a great deal of time coming up with it and have launched it with burning enthusiasm, envisioning the rush of customers through your door, or the constant buzzing from your website cart page.
These events may have happened, but lately, all you hear is silence, or if you're lucky, crickets – because at least, they produce some sound. 
This wouldn't come as a surprise, especially when most people have tightened their wallets, but you also wonder how much longer can you go on in the series of frequent lockdowns and uncertainty. 
Wouldn't it be great to get your customers buying from you again and again despite these unpredictable events?  
The solution is more simple than you think. 
Don't junk your loyalty program if you feel like it's not quite working for you – you just need to make a few simple adjustments.
Here are three easy ways to add some spice to your existing loyalty program and attract customers to your business just like the good old days. 
1. Make it simpler through mobile – digital
The most effective loyalty programs aren't the ones that have an insurmountable variety of gifts and rewards, rather, they're easy to use and are automatically integrated with people's habits on their mobile devices.
The future of loyalty programs is mobile because digital offers customers a seamless shopping experience, where they can easily tap to order and get rewarded.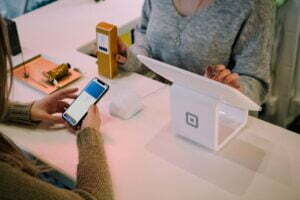 "The future of loyalty programs is mobile"

You can take advantage of this too, as people spend an average of 2.5 hours a day tapping away for various activities on their phones – including shopping.
So if your loyalty program involves having punch cards or a loyalty card that the customer has to whip out every time they buy something from you – it's time to think if you should remove this tedious process altogether.

Your customer could lose or misplace their card, or they may have a bunch of other cards occupying too much space in their wallets and they'll be holding up the queue trying to look for it when it comes time to pay.
Worse case – if they feel inconvenienced every time they want to earn a reward from you, they'll likely not come back.

With digital mobile loyalty programs, your brand is always visible on your customers' smartphone and you're able to reach them through push notifications and pop-ups.
You can either create your loyalty program on mobile from scratch, which is going to cost you time and money, or you can simply have your current loyalty program featured on an established shopping app.
That way, you will leverage existing rewards that your customers won't be able to resist.

Remember, offer your customer a no brainer shopping experience so they won't have to think. Better yet, you don't have to think either. These are the benefits of making your loyalty program mobile digital.

"Offer your customer a no brainer shopping experience so they won't have to think. Better yet, you don't have to think either."
2. Get social and do good
While the best loyalty programs may appear to be the ones that offer customers bigger discounts and savings, social loyalty is proving to be more powerful because they empower your customer with a strong sense of purpose.
Saving money is good but when you give your customer the opportunity to donate to a cause or charity they love or one that you stand for. In fact, they'll become more emotionally engaged with your program and products because doing business with you makes a difference in something they care about.

When your customer is emotionally engaged with you, they can double their spending and have a 300% higher lifetime value – meaning that their value to your business is 300% over unlimited time VS just a one-off purchase, according to research by data analytics firm, Motista.

"When your customer is emotionally engaged with you, they can double their spending and have a 300% higher lifetime value."

Furthermore, a study by Cone Communications found that 87% of customers would buy from a business that supports a cause they care about. If you miss out on this tremendous opportunity, the results would be dire for your business.

Do you have a societal or environmental cause(s) that you want to support? Let your customers know that a certain portion of their savings or spending will help.
Better yet, automate it so that every time they shop with you they donate in just one transaction.
3. Be a data nerd to your advantage
If you don't know what your customers want, it could cost you hundreds or thousands every month or week.
As we've mentioned about the benefits when you take your loyalty program mobile and digital, you can also make use of this to analyse your program and customers so you can see what's working and what's not.

There are many digital analytic softwares that make it easy to find out how you can further improve your loyalty program. The main areas that are worth researching are the obvious ones – which products are people buying and what specific discounts or rewards they are redeeming.
But these software programs will also give you deeper insight into which rewards are too difficult or complicated to earn.
It may be a good idea to do some market research with simple questions that your customers can answer within 2 minutes.
They'll feel important because you're involving them with your business process as they play an important role to help you serve them better.

"If customers feel that a reward is too unattainable, they'll abandon you."
All in, remember the power of simplicity? If customers feel that a reward is too unattainable, they'll abandon you.
Keep your rewards simple and seamless, preferably automatic, where customers won't need to spend too much time choosing or analysing because you've already done this for them. 

If you find that your loyalty program isn't working, it's time to seriously look into it now because you don't want to be left behind and lose everything that you've worked hard for.
In just two minutes, you can make your loyalty program so powerful that it will keep your customers coming back for more. 
Click here for more information.
Stay ahead of the trends and the competition
Future proof your business by addressing the TOP 3 emerging consumer trends.
Get the best strategic value out of giving discounts
3 irresistible strategies you can deploy this week that'll boost your sales. Suitable for any business – retail, services or e-commerce.