Top 3 myths about customer loyalty programs that is preventing you from making more money
Doing business is hard.
The last 18 months of the pandemic certainly haven't made anything better for most. The lack of control and fluctuation of sales is just overwhelming.
On top of that, your customers are constantly distracted by the large variety of choices and options.
You already know that offering tremendous value is the only survival cushion to keep customers coming back, namely offering discounts and some kind of loyalty program, but you're also wary of the costs and hassles involved – the last thing you need is a time suck and a budget blower. 
A solid customer loyalty program not only creates repeat customers when executed correctly, but your customers are also going to turn into raving fans.
They advocate your products, constantly sing your praises, and drag their friends and families into your store. They are your most potent salesforce.
But like many, you may be sceptical. Ain't loyalty programs old school and ineffective? Do modern customers really care? How much margin am I giving up? 
Let's debunk these common misconceptions. Here are the three biggest myths about customer loyalty programs debunked, so you will no longer be hindered from your retail success.
Myth 1: A loyalty program is expensive
The thought of parting with money to "buy customers" is never comfortable. But if you look at it as an objective investment in a view of compounding your customer acquisition and sales, you will soon realise: that the more customers are rewarded by you = repeat business.

Let's compare this to a typical marketing campaign – if you want a shot at having any decent results, you're looking at a minimum spend of $5000 for starters, all without any guarantee on results. 
With a loyalty program, you have the power to choose the discount amount or reward. You have complete control over your budget and profit margin – turn on, switch off, increase discounts or put out time-based offers – reacting to how business is going in real-time. 
The beautiful part about all this is that you're creating a long term and ever-growing affiliation between your customers and business. Everyone's ears tickle when they hear about a discount. This increases the frequency of returning customers, many of them would "stock up",  and tell their friends and family about the deals too

Research shows that customers who are part of loyalty programs (including redeeming points and occasional shop discounts) spend 2.5 times more than those who don't. This means that you'll get to move more stock and make more profit in the long run.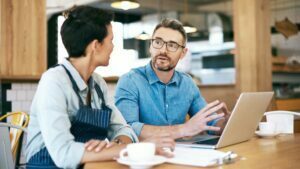 With a loyalty program, you have complete control over your budget and profit margin.
More fun facts:
Statistics say 65% of customers that belong to a loyalty program frequent the store more often 

and 64% will say they spend more at each visit.
If you're still concerned about cost because it seems that you're just giving away freebies, look at it this way: more in the door, the more transactions; more transactions =  more profits over time.

Myth 2: Loyalty programs are a hassle
Unless you're still tabulating customer data using pen and paper, loyalty programs are one of the easiest marketing tools you can manage effectively, thanks to technology.

There are plenty of online tools that help you understand your customer metrics and insights such as spending behaviour, favourite products and promotions, average spend value and other insights that will be helpful to growing your sales.

These will often be automated as reports set at your preferred frequency. They'll truly give you clear and valuable information to understand your customers better so you can make more money.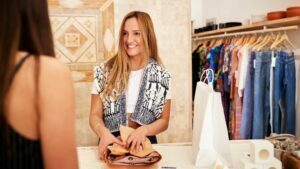 Offering a standard discount or reward that your customers can look forward to will require less work on your part and allows them to pass the good word on to other potential customers.
The great thing about a loyalty program is that you can tweak and modify its features as you begin to grasp what makes your customers tick. You'll soon find that simplicity works best – offering a standard discount or reward that they can look forward to will require less work on your part and allows them to pass the good word on to other potential customers

Myth 3: Loyalty programs are old-fashioned
While some loyalty programs still use a punch or stamp card, most are evolving to become digital out of convenience and less material usage.

A survey concluded customers are 59% more likely to join a loyalty program if the company has an app. This indicates the increasing popularity of digital loyalty programs as more people welcome the use of technology.

So cards might soon be out because people tend to misplace or lose them and are looking for a seamless loyalty program that entices them to want to buy from you.

Don't be deceived that loyalty programs are only for the "older" generation because everyone regardless of age or background, loves a good deal. In fact, if your customers identify you as that store with a strong loyalty or rewards program, they will see more value in doing business with you beyond what you're originally selling.

They'll become your business growth catalyst by telling their friends and family about you.
The last thing you need is more business uncertainty and losing your customers to the competition. In just two minutes, we'll help you create a simple but effective/powerful loyalty and rewards program to keep your customers coming back for more while doing good for the world.

Click here for more information.
Stay ahead of the trends and the competition
Future proof your business by addressing the TOP 3 emerging consumer trends.
Get the best strategic value out of giving discounts
3 irresistible strategies you can deploy this week that'll boost your sales. Suitable for any business – retail, services or e-commerce.