5 Inspiring Socially Responsible Brands to Learn & be Inspired By
The news in recent times has done a good job of painting a bleak picture of the events surrounding us.
As if we didn't have enough coverage of the pandemic, we're now witnessing a big debacle about climate change in the country.

Politics aside, Australia is experiencing higher temperatures and more extreme weather from climate change. What's concerning, for example, were the bush fires two years ago, rising sea levels and days that broke heat records have doubled in half a century.

Whether or not you've been affected by these recent crises, we're all feeling the need to play our part to reduce these detrimental effects on our planet and for the future.

As business owners, we work hard to tell the world about our products and ideas, but in times like these, we also have to address how our goods can improve some of the world's problems?
Perhaps a stronger incentive to help answer that question is knowing that half of consumers will switch brands who are supporting a cause, says the Conscious Consumers Report 2020. Two out of three of them want to see you doing more to help solve societal problems. You'd want these customers to buy from you as they're in for the long haul.

You may feel that your products don't have a direct impact on the environment or the welfare of others, but when you delve deeper and put on your creative hat, you'll find that everything you do has some kind of influence.
That's why we've picked five of our favourite local socially and environmentally responsible brands that we can learn and be inspired from so that we too can run our businesses for the better of this world. 
Ecoriginals
Touted as Australia's highest rates eco nappies and wipes, this Sydney based company produces baby products from natural resources that go back to the ground with minimal or no impact. Their home compostable wipes are 100% plant-based and nappies are 90% biodegradable.

Unfortunately, an estimated 400 billion traditional plastic nappies comprise most landfills and that means it'll take up to 500 years to decompose. To help address this issue, the brand aims to reach 100% biodegradability by 2025 using their zero waste inspired circular economy. Their products continually keep products and materials in use and regenerate natural systems.

Save 9% when you shop Ecoriginals here. 

Upparel
This company doesn't only sell funky colourful socks and household items, but their philosophy to turn the "old" into the "new" by upcycling pre-loved products has scored them the National Retail Association Sustainability Champion 2020.
 Like Ecoriginals, their mission is to lead the circular economy by reducing landfill waste and increasing the life cycle of all textiles. Operating on a 10:1 production positive ratio, they claim that for every pair of socks they produce, they save 10 from going into landfills.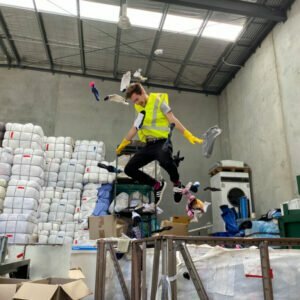 Upparel's mission is to lead the circular economy by reducing landfill waste and increasing the life cycle of all textiles.
The company does this by encouraging its own customers to allow them to recycle and upcycle their old textiles (clothing, shoes, linen). They give back store credit to their customers which can be used to buy anything that's been produced from their recycled materials.

This certified B Corp harnesses a strong collective approach where they not only get their customers involved but their communities to contribute ideas that will ultimately eradicate textile waste.

Save 18% when you shop Upparel here.
Nude by Nature

This cosmetics brand makes its products from 100% naturally derived ingredients. They say that their make-up range is free from chemicals, synthetic ingredients and preservatives like Parabens, Phthalates, Sulphates, PEGs, Phenoxyethanol and Mineral Oil.

Nude by Nature takes pride in using what's already available that is native Australian ingredients like Kakadu Plum as a rich source of Vitamin C, Lilly Pilly for anti-ageing benefits and Cehami for powerful antioxidants.

On top of that, their main selling point and priority are to produce cruelty-free and ethically made products. The company has been accredited by the non-profit organisation, People for the Ethical Treatment of Animals (PETA), which continues to attract more customers as they turn their backs on animal-tested products.

Save 8% when you shop Nude by Nature here. 

Bury Jerry (Jerry Bags)

No one likes picking up their pet poop, but Bury Jerry could put a smile on your face with their corn-made, plastic free pet poop bags. Based in Collingwood, Melbourne, the boutique business states that its bags use plants before plastic, are leakproof and soft and can be buried, hence the name, Bury Jerry.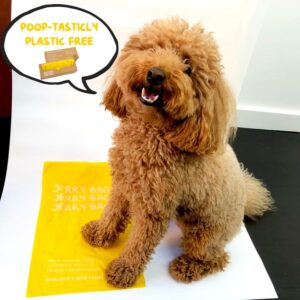 The boutique business states that its bags use plants before plastic, are leakproof and soft and can be buried
The business was started by the owner of Jerry, an ever-pooping pup that ended up using a lot of the commercial plastic pet waste bags.

So Bury Jerry was born where all its products and packaging are completely biodegradable and compostable.

The company also sells to people who don't have pets as their bags can be used in the kitchen compost caddy or collecting the vacuum dust.

It goes to show that even a small business can play a big role to make a change to reduce plastics.
The Swag 

Everyone can don their sustainable swag with one of these 100% natural made bags that keep your food fresh for days.
Concerned about the high amounts of food wastage, The Swag offers unique three-layer food bags that keep food fresher for longer so we don't have to throw them away as often.

Founded by Peita, a mother in Sydney, she initially felt extremely guilty about the amount of rotting fruit and veggies she had to throw out every day.

This sparked her to find a more sustainable and natural solution to save food and money.

The magic of food freshness is in the bag's patented design of unbleached and unseeded cotton. The first outer layer preserves the moisture of fruits and vegetables from drying out too quickly. The middle layer holds the bulk of the moisture to draw water away from the fresh produce but still allows hydration. The inner layer provides a dryer protection barrier.

Unlike plastic storage bags that create condensation and shorten the life of our produce, Swag bags let our fruit & veggies breathe and stay fresher for longer.

These are all small to big businesses and one thing in common they share is recognising a problem and wanting to improve it by using their products, services and unique company missions. Regardless of the size of your business, there are always ways we can help to contribute to the bigger role of making our world more sustainable all while enhancing our brand image.
In just two minutes, we'll help you create a simple but effective loyalty and rewards program to keep your customers coming back for more while doing good for the world. Click here for more information.
Stay ahead of the trends and the competition
Future proof your business by addressing the TOP 3 emerging consumer trends.
Get the best strategic value out of giving discounts
3 irresistible strategies you can deploy this week that'll boost your sales. Suitable for any business – retail, services or e-commerce.