How much has COVID changed customer behaviour and choices?
Nobody will be surprised to hear that consumer behaviour has changed in the wake of COVID-19. After all, just about everything we do has changed in some way.
The most interesting thing about changing customer attitudes and actions, however, is that they have generally become more thoughtful and considered.
It's as if the disruption caused by the pandemic has given us not only more time to think about what's important to us, but also some degree of motivation to try to do things better.
Recently, KPMG published the third edition of its Me, my life, my wallet research, looking at some very specific aspects of customer behaviour. The report was compiled from a survey of more than 18,000 consumers across 16 counties, regions, and jurisdictions.
Ethics and values are very important to consumers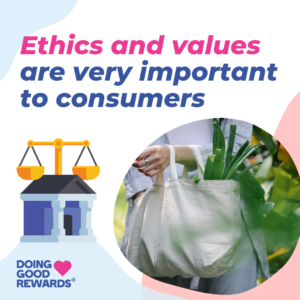 In the wake of COVID-19, a new consumer is emerging – more financially constrained, digitally aware, and thoughtful in their decision-making. 
KPMG's research found that 80 per cent of consumers want to purchase from a brand that reflects their values – a sentiment that is remarkably consistent across regions, generations, and income groups.
Furthermore, 9 out of 10 consumers say they're willing to pay more to purchase from an ethical brand or a retailer that gives back to society.
However, it's more than simply intent for many, as 1 in 4 consumers say that such factors have already changed their purchasing decisions.
Australians' priorities: local, trust, and tech
KPMG has broken down its findings by country and region, so we can get some understanding of how and where Australian consumer attitudes align with and differ from the global sentiment.
The research suggests that at least three of the 'trends' that came to the fore during the pandemic are likely to endure into the post-COVID-19 landscape:
1)    increased support for local businesses;
2)    a stronger focus on trust; and
3)    embracing technology at an accelerated rate.
As Amanda Hicks, Partner in Charge, Customer, Brand and Marketing Advisory at KPMG Australia explains it: "Since the outbreak of the pandemic there has been an increase in the critical driver of customer trust in most sectors. In Australia, consumer comfort with technology has increased across the board, and more are now interested in new technology."
Australians were also found to attach value to personalisation when executed effectively. The technology industry engenders trust as it enables a frictionless, contextual, and personalised experience.
The survey found that healthcare, retail, and technology, the highest-ranked sectors for trust in Australia before the pandemic, remain the top three.
The Australian-specific data also showed that:
     

90% of customers said they would pay more to an ethical retailer.
     

81% focused more on health and wellbeing during COVID-19 than they would normally.
     

43% are pleased when a company reduces friction around purchase and delivery.
     

54% said that an organisation's environmental or social record had changed their purchasing decision.
Understanding your customers
Almost every key takeaway from this KPMG report reinforces how important it is for a business to not only understand what its customers want but to be transparent about how they do business.
It's no surprise that customers want you to make things easy for them. After all, it's basic human nature to want to burn as few calories as possible on everyday tasks.
People expect a seamless, simple experience, and they will compare all experiences to the best they've had. They also want to know that there is adequate support available should there be any issues.
Consumers now also expect businesses to know enough about them to give them what they want, but also to be mindful of the stresses in their lives (including wanting to feel safe).
Importantly, people want reassurance and want to feel valued.
That results in the vast majority of consumers favouring businesses and organisations whose values are aligned with their own.
More and more, that includes corporate social responsibility. As KPMG's report puts it: "Show me you care about doing good in the world".
There's no time like the present to create a truly rewarding shopping experience with a positive social impact. Find out how here. 
Stay ahead of the trends and the competition
Future proof your business by addressing the TOP 3 emerging consumer trends.
Get the best strategic value out of giving discounts
3 irresistible strategies you can deploy this week that'll boost your sales. Suitable for any business – retail, services or e-commerce.