Why customer loyalty is about much more than loyalty programs
When we think about customer loyalty, we tend to automatically make the association with loyalty programs. That's not surprising, because just about every major retailer has one.
What started with airlines' frequent flyer reward programs is now a ubiquitous marketing device used by businesses of all shapes and sizes in all sectors.
Buy your groceries from Woolworths and you'll earn points toward a cashback reward. Keep buying your petrol from BP and you'll earn more points – and sometimes up to five times points for repeat visits within a set period. And, if you prefer, we'll turn them into Qantas Frequent Flyer reward points.
All sorts of hospitality businesses – Nandos, Oporto, Spud Bar, Red Rooster, Starbucks, and more – offer a free meal or beverage on your birthday, among other incentives to sign up.
Then, of course, there's the old favourite, get your 10th one free!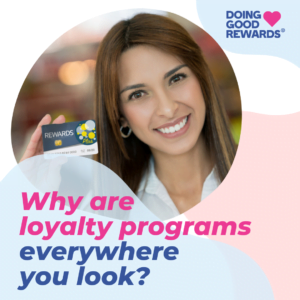 Why are loyalty programs everywhere you look?
There are several reasons that loyalty programs are all-pervasive, but perhaps chief among them is very much the bottom line: it's more cost-effective for your business to retain happy customers than it is to consistently acquire new ones. Acquiring a new customer is 5-25X more expensive than retaining a current one.
In our digital world, businesses can no longer rely on customer inertia as a form of default retention. We've all been empowered to shop around more easily for things that we used to stick with because changing seemed too hard (banks, health insurance providers, telcos, energy retailers, and so on).
What's more, customers are making purchase decisions based on more than just the best price. With the power of online information at our fingertips, we're now more capable of making buying decisions based on shared values, engagement, and emotional connections with a brand.
Happier customers are not only more likely to keep purchasing from you, but more likely to tell their friends and give you an extremely valuable positive online review.
Who says loyalty matters?
Mastercard's Top Retail Trends to Watch in 2022 report says testing new ideas for loyalty will be essential for retailers:
"As consumers rely more on their mobile devices for managing everything from social interactions and finances to paying for items and monitoring their health, retailers will need to find ways to break through all that mobile noise with compelling loyalty programs."
KPMG's Australian Retail Outlook 2021 suggested that consumers were also building loyalty to local shopping precincts, as well as retailers that made them feel welcome.
Meanwhile, the Conscious Consumerism & the COVID effect study, commissioned by Cavill + Co and conducted by Di Marzio Research, tells us:
"There are few strategies as potent as embracing Corporate Social Responsibility & Social Good – because it impacts so many aspects of a business. This includes attracting talent, staff pride & retention, brand differentiation, increased sales & customer loyalty, positive social media stories, reduced costs & wastage – even stock market resilience."
KPMG's recent Me, my life, my wallet report said something quite similar:
"The rewards for organizations that embed purpose into their business are tangible, significant and potentially game-changing. Such actions can build trust, create authenticity and instil loyalty in customers, suppliers, employees and communities."

Here are our top five tips for instilling loyalty in customers
There's no secret sauce to building customer loyalty, but it requires practices and processes to be firmly embedded within your business so that they are delivered repeatedly.
Research shows that nearly three out of five consumers report that good customer service is key for them to feel loyalty toward a brand. Perhaps even more significantly, 50% of customers say they would switch to a new brand after one bad experience.
So, try to make these things an integral part of your business:
   

Have a strong focus on the customer and what he or she wants, rather than what you think they might like or what your competitors might be doing.
   

Provide exceptional customer service by ensuring that you and your team listen to your customers and adjust accordingly so that you can exceed their expectations.
   

Be consistent, not just to be sure your customers always get what they expect but also to make it as easy as possible for them to fit their regular visit to your business into their busy lives.
   

Build credibility through meaningful customer interactions so that they feel as if you value them even more than they value you.
   

Reward loyalty, because customers who are loyal to your brand are also the most valuable to your business.
Keep this in mind: customers who have an emotional connection to your brand tend to have a lifetime value that's higher than your average customer, so they deserve to be rewarded!
Is a loyalty program that combines shopping discounts and charitable giving in the same transaction a good fit for your business?
Find out how we make it simple for corporate social responsibility and loyalty to go hand in hand at:  doinggoodrewards.com/merchant.
Stay ahead of the trends and the competition
Future proof your business by addressing the TOP 3 emerging consumer trends.
Get the best strategic value out of giving discounts
3 irresistible strategies you can deploy this week that'll boost your sales. Suitable for any business – retail, services or e-commerce.