Why is everyone talking about discounts?
Is it Christmas in July, or EOFY, or Back To School, or Boxing Day, or Click Frenzy, or Black Friday, or … just a good, old-fashioned Stocktake Sale? 
Sales are a quick 'sugar hit' for shoppers and retailers alike, but they can be hit and miss … and there are now so many it's both overwhelming and underwhelming at the same time!
While some people do still wait until something they want goes on sale, most people want what they want when they want it – assuming they can get it at a reasonable price.
Which is just one of the reasons that discounting can satisfy more customers while also providing a more predictable pattern of sales for businesses.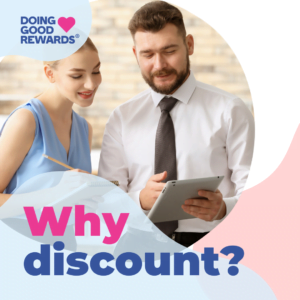 Why discount?
Getting something at a discount can simply make your customers feel good, and we all want happy customers.
One study found that shoppers who were given a $10-off voucher experienced a 38 per cent rise in levels of oxytocin, the hormone associated with happiness.
Interestingly, this spike in positive feelings was higher post-discount than when people in the study received an outright gift.
At the same time, the respiration rates of voucher recipients dropped 32 per cent and sweat levels were reportedly 20 times lower than their peers (who didn't receive a voucher).
In other words, they felt more relaxed, and calmness has been noted as a factor in forming positive associations or impressions.
Regular discounting can also encourage customer loyalty and organic referrals. If customers believe that you consistently offer good deals and good value for money, they're more likely to trust your business, feel satisfied with their transaction, come back again, and tell their friends.
There's even more psychology to it
Different studies have reported that offering a coupon or discount can dissuade someone from searching for the same product elsewhere.
A big part of the psychology behind discounting is in the perceived value for the customer. If they immediately appreciate that the discount is resulting in an excellent deal, many won't hesitate to make their buying decision.
That's why it's recommended that you show the previous price of an item, as well as the discounted price, rather than simply noting that it's "X% off". People don't like doing math and easier to understand is always better.
However, it's also true that purchasing is an emotional decision, which means that if a shopper feels like "X% off" is a great deal, then it truly is a great deal!
Is everyone doing it?
Just because something is popular, doesn't mean it's necessarily right for your business. However, in the case of discounting, if even one of your direct competitors is doing it and you're not, you'll have to work hard to keep up in other ways.
A 2015 study by Software Advice found that discounting was the number one pricing strategy for retailers across all sectors, used by 97% of survey respondents.
Every online shopping and website-building software package includes several options for offering discounts and vouchers because every merchant, no matter how small, wants that capability.
Surveys done by the coupon marketplace RetailMeNot found that nearly 70% of millennials will look for a deal before making a purchase while around two-thirds of all people surveyed said they'd make a purchase if they had a coupon, regardless of whether they initially planned to buy something.
Think about that for a minute: they said that even if they hadn't planned on buying something, if they were given a discount coupon, they would make a purchase!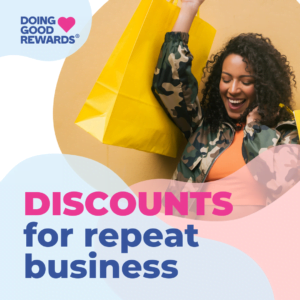 Discounts for repeat business
The combination of discounting and loyalty is a powerful one. It makes customers feel happy (about their discount) and valued (because the 'reward' is for their repeat business).
The simplicity of the "your 10th cup of coffee is free" loyalty stamp card still works for a whole range of reasons – even though it's been superseded by digital rewards cards on your smartphone and more complicated calculations like points per dollar spent.
It works because it's easy to understand. It works because it saves the customer from having to make a decision (where should I get my coffee today?). It works because even just the offer of a loyalty card says: "we would like you to keep coming back".
And it works because it 'gamifies' the regular coffee run. There's now an achievement to work toward, and we all love the challenge, the pursuit, and the success at the end of it.
Whatever it is that your regular customers are working toward, they're more engaged by the incentive and get a huge additional boost of personal satisfaction when they reach the goal and get the reward.
Doing Good Rewards offers a simple way for you to make your customers feel great about themselves and their purchasing decisions by packaging loyalty and discounting with charitable giving. Find out more at: https://bit.ly/3ub63H1
Stay ahead of the trends and the competition
Future proof your business by addressing the TOP 3 emerging consumer trends.
Get the best strategic value out of giving discounts
3 irresistible strategies you can deploy this week that'll boost your sales. Suitable for any business – retail, services or e-commerce.