Loyalty Programs: Are they worth the time and hassle?
Business is not great or maybe it's good, but for most of us, it could be better.

As we look forward to opening up again to a "new normal", we are hungry to get more customers and sales to stay afloat and build from where we left off.

It's been a long lockdown and rumour has it that customers will emerge out of hibernation for some well needed retail therapy through "revenge spending".

They've been deprived of physical retail shopping and are yearning to experience again going into a store, touching, feeling and purchasing products (hopefully sanitising their hands along the way).

While that may sound like good news to you, it wouldn't be something to rely on or to look forward to. In fact, while consumers may want to make up for lost time, some of them may not choose to do it with you because perspectives and priorities have changed throughout the months.
Not your fault.

Tighter budgets may call for most people to spend at the larger retailers where prices are lower with higher product volumes. 
So how do you even compete with the big boys without losing more than you can afford? You may have thought about having a customer loyalty program, but after weighing the cost and returns, you're not sure if it's even worth it.

But it's something worth considering as 84% of customers are likely to buy from a retailer that has a loyalty program and 75% are more willing to make more purchases after they receive an incentive.

Imagine if you could attract more customers and increase your profits significantly week after week, month after month and for years to come?

That can be your reality as here are four main reasons a customer loyalty program is worth it in the long haul for your business and survival:

1. More loyal customers, more spending, more sales

When people spend and receive a discount or reward, you would have engaged with them emotionally –  they'll feel good, satisfied, happy and have a sense of achievement.
This is only human nature because everyone loves getting something for what seems like nothing. The bonus is they'll continue to associate these positive emotions with your business if you are consistent in your offerings.
In the long run, you will enrich your customer experience by building stronger and more loyal relationships with them so they're inclined to repeatedly spend with you.
It's an absolute that your profits will soar as 57% of consumers will spend more on businesses they are loyal to while 71% say that loyalty programs are meaningful parts of their brand relationship, says a study by Bond Loyalty Report. 

2. Gather customer data by default
When a customer joins your loyalty program, you get something back too – automatic provision of their personal information to convert your marketing efforts to actual profit centres.

The standard information that customers will provide is their birthdays, contact, residential postcodes and other details.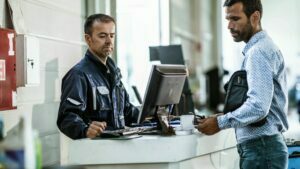 Your customer data is like your sacred jewels without the exorbitant marketing cost.
This data is like your sacred jewels without the exorbitant marketing cost. They'll tell you more about your customer's shopping behaviour which will help you improve your loyalty program and shopper experience according to their preferences.
This further entices them to spend more and more often with you.

3. You'll have an edge over your competition

With so many sales to process, you won't even have time to worry about your competition.
Even your customers will not bat an eyelid at the other offers because your irresistible discounts will make them less likely to compare your products with others, according to a study from the Max Planck Institute for Tax Law and Public Finance. 
This means that existing and new customers will choose your products over your competitors. 
Now the question is – if they're getting 10% off from the other store, what offer can you give? Just increase it by 1% so you give them 11%. Even if your discount is more but ever so slightly, most customers will automatically perceive that your deal is better.
If your discount amount or offer is marginally superior to your competitors, it won't eat into your margins. You just need to know your cost unit prices and sales predictability to see discounts as a long-term profit generator.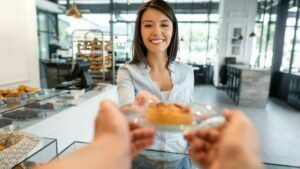 Existing and new customers will choose your products over your competitors.
When you have this edge over your competitors, your customers will tell their friends and family about why they shop with you instead of the other brands.

4. Minimal cost and resources to you

Small to medium businesses in Australia can spend more than $20,000  a month on social media marketing alone.
That's fine if you have the budget for that and its getting your results. But for the rest of us, even a quarter of that amount will stretch us thin(ner).

As mentioned, you'd have created a large following of loyal customers who prefer to buy from you than anyone else.
A study by Harvard Business School found that when you retain customers by just 5%, your profits will increase by 25%-95%. Around 65% of your business will come from these existing customers.
Furthermore, Citibank discovered that 94% of Australians are already enrolled in some kind of loyalty program and they expect you to have some incentive too.

So why reinvent the wheel and invest more of your precious resources in doing so? With minimal cost to you, a well-designed customer loyalty program will work throughout the seasons, periods and even these unsettling times. 

The last thing you need is more business uncertainty and losing your customers to the competition. In just two minutes, we'll help you create a simple but effective loyalty and rewards program to keep your customers coming back for more while doing good for the world.
Click here for more information.
Stay ahead of the trends and the competition
Future proof your business by addressing the TOP 3 emerging consumer trends.
Get the best strategic value out of giving discounts
3 irresistible strategies you can deploy this week that'll boost your sales. Suitable for any business – retail, services or e-commerce.