Unique Christmas gifts under $50
If you want to make an impression this Christmas when it comes to gifting, there's an opportunity to do that with these exceptional gift ideas.
Everyone's going to get some chocolate, a snow globe or an oven glove set when it's time to unwrap the presents, but you're going to stand out with your quirky surprise.

You'll save money and help charities when you shop on the Doing Good platform and people will remember your gifts long after the new year's countdown. Here are some selections that will make your recipient smile or have their jaws drop slightly but all in the name of Christmas cheer, fun and joy.

Short Story: Chill, Happy and Super Pills (100 days): $44.95 (Save 9%)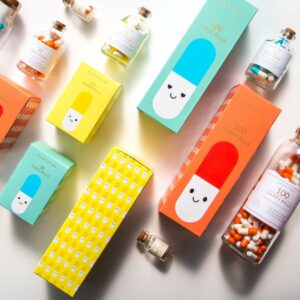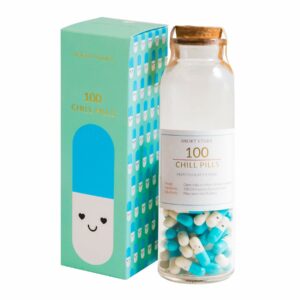 Ok, so 2021 is finally close to over and we all deserve to rest, relax and reflect. Your recipient will appreciate these cool chill pills where each pill encloses a mindful quote to help them start their day with the right mindset.

The packaging is colourful and fun to make anyone look forward to opening one pill a day to see how they will Carpe Diem. With simple quotes like "Slow down, take it easy, one breath at a time" and "Don't Give up on your dreams", they work as timeless reminders of why we should all cut ourselves some slack and just be grateful for what we have.

Bed, Bath n' Table: Mini Christmas tree and figurine $23.24 (Save 7%) + Get an extra 20% off full priced items when you checkout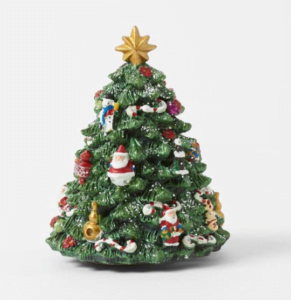 No space for a Christmas tree? No problem. This mini-musical Christmas tree is sure to delight anyone, not only because it's compact but already decked with cheerful ornaments, glitter and has music!

It'll be a conversation starter and can be nicely packed away after the festive season. Great for people who live in small spaces or just want something other than the traditional Christmas tree where the extra deco has to be bought separately.

Dusk: Millie Koala Oil Burner with Tealights & Wax Melts Gift Set Bundle – $45.49 (Save 9%)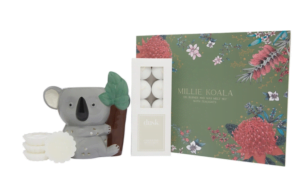 It's Straya, Mate!

We love Aussie Christmases because it's warm and we soak up the best of summer in our shorts, shirts and thongs. Another feature about this amazing country are the native animals and this Koala oil burner will be a delightful addition to any home.
The set comes with a 10 pack of unscented tea lights and an endearing koala oil burner holder. What a simple and heartwarming way to celebrate and acknowledge Australia's natural and beautiful homeland.

Gorman: Small Planters – $17.30-26.40 (Save 9%)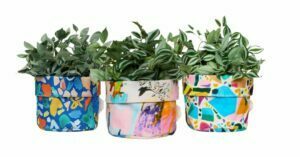 Add a splash of art and pop of colour to anyone's abode by gifting them these handy and eye-catching mini planters. Made with cotton and canvas, they're durable and water-resistant to protect flowers and plants. Featuring Gorman's exclusive and signature colourful designs, these planters are also charming garden (indoor or outdoor) decorations for the home or office.
Gifts Australia: Arse FaceSoap – $13.65 (Save 9%)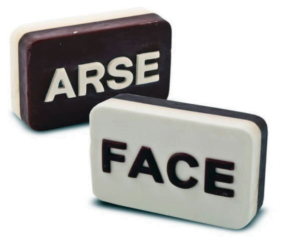 Arse FaceSoap – For under $15, it's a cheap way to prevent anyone from mixing up their soaps for certain areas of the body!
Because this error can actually happen after one too many Christmas drinks. In case the words aren't clear, the colours are – brown for the bum and white for the face, these things should not be confused! We had a good laugh with this one and it'll be a pretty bold move to give this to someone, so we dare you…
Gifts Australia: Musical Plant pot speaker – $22.75 (Save 9%)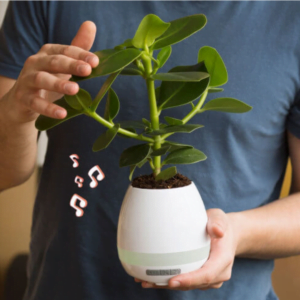 By far, this is the ultimate trusted device for both music and plant lovers to enjoy. Grow a plant in this pot to the magic of LED lights and songs – yes. the plant becomes a musical instrument!

The LED lights and songs come on every time the leaves are touched. It also streams music with a bluetooth function.

Great as a gift for the home office or the office-office, growing a plant helps the environment, heals the soul with music and the lights are a sight for sore eyes (especially after staring for hours at a computer screen).
Get it, gift it!
Something for the kids!
Lime Tree Kids: Extendable Giant bubble Stix – $27.25 (Save 9%)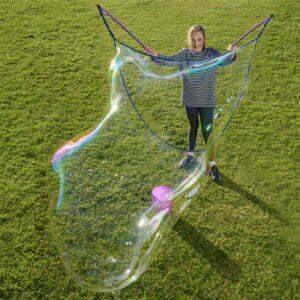 As far as we know, most if not all kids love bubbles especially if they're huge, like really huge.

This impressive giant bubble stix can create bubbles that are as big if not bigger than an adult (fulfilling every child's dream to be the master of giant bubbles).

Not just for the small kids, but big kids too – fun for the whole family. If you want any kid to like you, get this for them and they'll LOVE you!

45-Piece Hardware DIY Tool Kit – Pink $38.20 (Save 4.5%)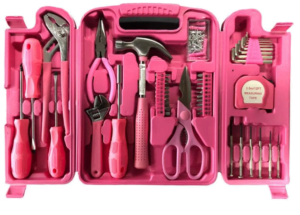 You thought this selected gift would be the usual spa treatment or beauty kit, right? While those would definitely pamper the ladies, this pink tool kit caught our eye. Even if your gift recipient isn't into tools or a handy woman, she'll want to be with this beautiful set.
Just looking at that rose pink hammer and the choices of screwdrivers makes us want to fix something, anything!

Something for him
Shaver Shop:  Milkman Beard care twin pack – $27.75 (Save 4.5%)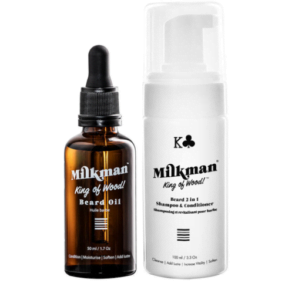 For the gentlemen who insist on growing out the beard even in the peak of summer, this will serve them a big favour. Yes, Santa, we're talking about you too!

The last thing a beard should be is one that's itchy, tangled and unruly. This beard care pack contains natural ingredients like cedar, sandalwood, argan oil, hemp seed oil and avocado oil that will seal in moisture in the beard to soften and style it.

But if it's no beard season for your recipient, gift this to them anyway for when they decide to sprout their designer bristles when winter comes. Because winter is coming… 
Something for furry friends
Lucky Pet Supplies: For cute canines – Nina Ottosson Interactive Treat Hiding The Twister in Purple – $46.55 (Save 5%)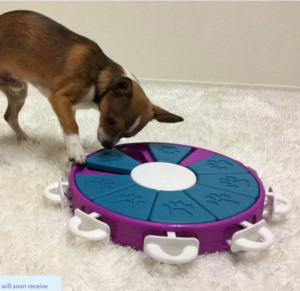 Dogs are way smarter than we think because they can solve complex problems if we give them the opportunity. Gone are the days when we tell them to "sit, lie down, roll" and give them a treat.

We like this treat hiding device because it teaches them a lot more and your recipient will love it even more. It features three levels of puzzles and games to make dogs work for their treats while keeping them entertained for longer.

For fun felines (and maybe canines too) – Frolicat Bolt Interactive Laser Pet Toy for Cats & Dogs – $37.50 (Save 5%)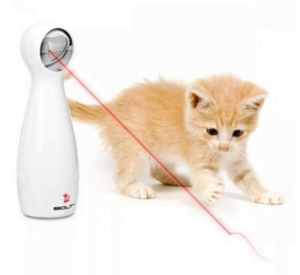 Humans aren't the only ones with fancy gadgets because now pets can have them too!

The laser pointer in this pet toy bounces random patterns to amuse pets for hours while owners can either watch in amusement or get other things done.

It's battery operated so it's safe and can be used manually (owner beams the lasers) or automatic.

If there are going to be rows of rainy days during the next few months, this is an ideal present for your pet-loving friend or relative because it'll definitely ensure their furry friends get some exercise and play.
Every time you shop with us, you will automatically receive a discount and part of that saving is donated to your nominated charity. You'll experience the joy of shopping, saving and ultimately helping others in need. Click here to find out more or start shopping with the Doing Good app now (use code: dgrcommu). 
Stay ahead of the trends and the competition
Future proof your business by addressing the TOP 3 emerging consumer trends.
Get the best strategic value out of giving discounts
3 irresistible strategies you can deploy this week that'll boost your sales. Suitable for any business – retail, services or e-commerce.