Travel Essentials to carry-on that will destress and ease your mind
Yes! Travel is finally back on the cards for most people. As Australia starts to open up to the world in the following months ahead, some of us will be dusting off our passports and reacquainting ourselves with what we do best – going for a holiday.

Whether it's Europe, Asia, the Americas or anywhere close to home that requires a flight, aviation travel may feel alien to us after 20 months of being dormant.

Suddenly we're reminded of the bane of packing, preparing and yes, the long waits at the airport. It's easy to get ahead of ourselves because we're nervous, a little excited and stressed at this point.

But we can minimise hassle by packing the right essentials for our carry-on bags so that we're fully equipped from the moment we check-in, board and leave the travel vehicle (in this case, we assume it'll be a plane). We've selected items that every carry-on luggage should have to make your (not-so) new experience of travelling again stress-free and enjoyable.

Passport wallet – from Catch.com.au $23.30 (Save 4%)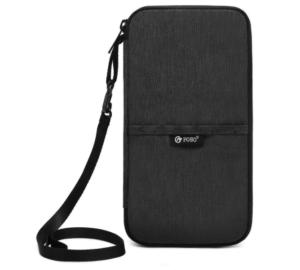 How many times have we reached the boarding gates and frantically rummaged through our bags for our boarding passes and passports?

With the new normal of travelling, we'd be needing more documents than usual so having this passport wallet would be super handy to place everything important in one secure place.

It holds your passport, cards and phone that you can wear as a lanyard. The bonus feature is that it's made with high-end RFID Blocking Technology to safeguard your personal information and prevent identity theft that may happen while you're abroad.
The material is made with nylon which is lightweight, water-resistant and easy to clean.

Trolley Backpack 70L from Kathmandu: $299.98 (Save 4.5% with an eGift card)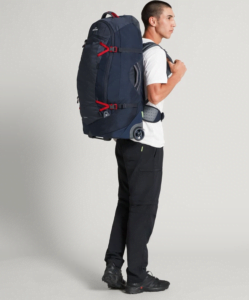 We love this bag because it can be used as both a backpack and trolley (be gone, back pain!) Kathmandu claims that this is the new modified version of their Hybrid Trolley series as they've minimised the net weight of the bag without compromising its strength and durability.
As it's 70L, you can pack clothing, toiletries, electronics and other travel items in there – a great option if you're only having a carry-on or need to have more baggage space alongside your check-in for longer travels or when travelling together with family.

Expedition pouch from Helly Hensen: $38.20 (Save 9%)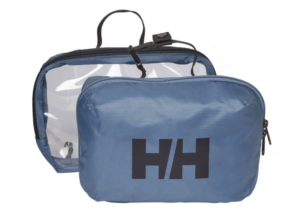 With toiletries, electronics and other things you want to carry with you, this practical travel pouch can keep your things neat and organised. The pouch is two separate pouches that are connected with quick-release buckles making it easier to hang from any hook or rack without having to fumble with more zips and manually separating items.

The main pouch holds travel essentials and the second pouch is clear to hold liquids. Made with water-resistant nylon with a mesh, your things will be kept dry and mess-free.

TJackson PTAUSB Outbound Travel Adapter + 2 USB Outlets from Big W: $28.50 (Save 5% with an eGift card)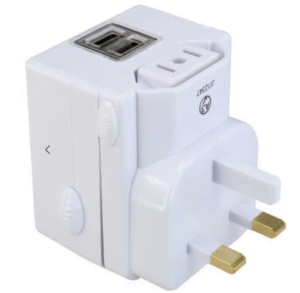 If you've been in a predicament where you urgently need to use your device at your destination but you don't have an adapter, we feel you. This travel adapter will rest assured to give you peace of mind when you touch down. It can be used in more than 150 countries with features like two USB charging outlets, lightweight compact for easy carry.

Tip: It's always a good idea to get two in case your travel companion needs to use one too.

Power Bank 5000mAh Solar Charger Waterproof USB from Crazy Sales: $23.90 (Save 4.5%)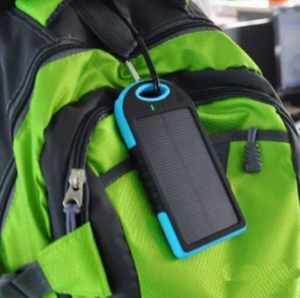 You know that frustration when you need to call your ride to pick you up from the airport, but your phone is dead. You don't want to be in that situation and this power bank will save you the inconvenience of trying to figure out how to use a public phone (if that still even exists) or sheepishly asking someone to lend you their phone.

Clip this waterproof and dustproof device onto your bag to use on the go (over 500 times cycle to charge your phone and other electronic devices). It also has an emergency LED torch, dual USB/Micro charging points and shock-proof and drop resistance material that will ensure that it doesn't get damaged when an accident occurs.

This is a budget small buy to save you from big inconveniences!

HD 350BT Wireless Headphones from Sennheiser: $139.25 (Save 9%)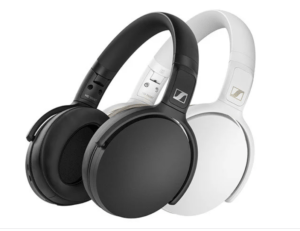 The plane ride or any ride to your destination can sometimes be a cramped and noisy experience. You can almost escape this by immersing yourself in your favourite music with these trendy wireless headphones by Sennheiser. Just put them on, close your eyes and enjoy deep dynamic bass sounds or a hot topic from a podcast that will drown out any cabin noise.

With up to 30 hours of battery life, it can last you the entire journey and possibly a stopover. But do remember to take it off if you're in transit because you don't want to miss important announcements like gate changes or flight delays (hopefully not!) 

Bullet Miami Jersey travel set from Catch.com.au: $21.05 (Save 4%)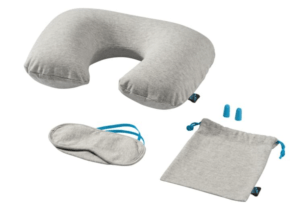 It's been a while since most of us have been on a long-haul journey and plane rides are not known to be comfortable. Kitting yourself up with this travel set will help make you more rested on the journey with an inflatable neck pillow, sleeping eye mask and earplugs.

All the items can be stored in the convenient drawstring pouch.

You can then continue to use it at your overseas accommodation or when you're back home. Whatever it takes to get you into slumber more easily and readily. Say snooze! 

Magnetic games from Lime Tree kids: $34.55 each (Save 9%)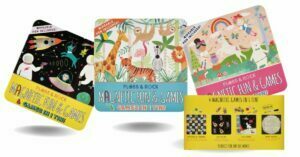 If you're travelling with kids and think that they've had enough screen time, it's time to entertain them with some interactive screen-free old-school games.

The space tin of magnetic games was specially made for children on the move. Each tin has games with our own childhood favourites like Snakes & Ladders, Tic Tac Toe and a good old word search. It comes with game accessories and a drawstring bag to store everything inside. The tin is only 19.5cm long making it a suitable size that doesn't occupy much space.

This is a great opportunity to connect with our kids in a vessel with no exit for X number of hours and these games can encourage some imaginative play.

Socks from Upparel: Various prices (Save 18%)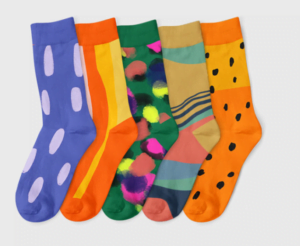 Socks are essential for plane rides of any duration because while we're all seated, air is restricted from the bottom of our bodies causing our feet to feel cold.

While we can stretch and walk up and down the aisles, we can keep our tootsies warm in a pair of these recycled fibre socks and feel good at the same time as we're doing good for the planet. Upparel's materials are either recycled or upcycled (repurposing old textiles to prevent excess landfill).

They have an impressive range of socks for women, men, kids and the whole family with colourful and funky designs.
Every time you shop with us, you will automatically receive a discount and part of that saving is donated to your nominated charity. You'll experience the joy of shopping, saving and ultimately helping others in need. Click here to find out more or start shopping with the Doing Good app now (use code: dgrcommu). 
Stay ahead of the trends and the competition
Future proof your business by addressing the TOP 3 emerging consumer trends.
Get the best strategic value out of giving discounts
3 irresistible strategies you can deploy this week that'll boost your sales. Suitable for any business – retail, services or e-commerce.