It's Here: The Socially Responsible Consumer Trend has Officially Hit the Mass Market
Trends come and go. One day they're hot, the next day, they're not.

These last almost two years of adapting to "new normal" trends brought about by Covid19 have seen us adjusting to life at home: working from home (WFH), home-learning, home exercise and a lot of online shopping.

While these may slowly come to an end at the turn of the new year, what will remain is our desire to take care of and improve ourselves and our community.

Our health, the health of our loved ones and our concern for the future of the world are strong determining factors on how we live and consume things.

As a result, more consumers are seeking to fulfil their true purpose by engaging in causes to positively impact their own lives, their society and the environment.

Finding True Purpose

As a business, our journey of helping our consumers find their true purpose is not a transient trend. It'll be the way to do business and do good for many years to come.

A large portion of our revenue will come from our new and most influential and influencing customers, Gen Z's. Born between 1995 and 2010, they're the most educated about brands and can either make or break a business with their social influence and digital savviness. 
The current socio-economic and environmental problems have made this generation become passionate conscious consumers.
The recent Australian Communities Report by McCrindle found that 84% of Gen Zs want organisations to take a stand on current social issues.

Another report found that 2 out of 3 consumers, in general, want businesses to play a bigger role to help solve worldly problems.
People are supporting more non-profits or socially conscious businesses with 4 out of 5 of them donating to charities or causes.
A quarter of consumers have already switched brands because they support a charity and half say they'll switch brands if they support a charity.

Thank you, I give a crap!

With more consumers becoming socially and environmentally conscious, it's only a natural course of action that business owners follow suit in order to survive the new normal.

When we understand what makes our customers tick it'll also give us a clearer perspective on the bigger scheme of things and how our own business can make a difference.

We may be small, but small steps make big changes and we can create a powerful positive impact together.

Let's take some inspiration from two local brands that have hit record sales and are true to their strong purpose-built business models to help their communities and environment.

Who Gives a Crap

This B-Corp certified Australian social enterprise gives 50% of its profits made from their eco-friendly toilet paper to charities every year.

Just last year alone, the company donated a record $5.85 million to help fund six charities in developing countries in aid of cleaner water, better sanitisation and hygiene.

Since its inception in 2012, it has donated over $10 million to help improve global sanitation for the 2.3 billion people in need.

While they've recorded selling 28 rolls a second in 2020 alone, you can see how their sales increased by 1000% (Interbrand's Breakthrough Brands AU+NZ 2020 Report) as people were frantically stockpiling toilet paper in the height of Covid19.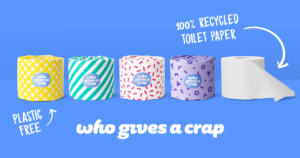 The company was selling 28 rolls a second in 2020 alone and gives 50% of its profits to charities.
You can say they're lucky or were selling the right product at the right time, but their paper feels softer on your bottom from the 100% recycled materials and yes, consumers believe what they stand for.

In a recent interview with the Daily Mail (dailymail.co.uk), its founder, Simon Griffiths said that around 27,000 trees are cut down globally every day while 10% of those trees are made into toilet paper. Who Gives a Crap doesn't just take these trees off the ground and flush them down the toilet.

"I think our purpose resonates with people who realise that every dollar they spend is a vote for the future," said Simon. 
He said that people want more than ever to find out how things are made and where their money is going.

Thankyou

The Melbourne based social enterprise selling personal care and baby products operates by giving 100% of its profits to tackle poverty in developing countries.

Last year, it raised over $17 million for impact partners in the world's poorest populations.

Founded in 2008, the company's impact partners helped more than 857,000 people in 22 countries have access to basic human needs.

Currently, their partners span over 14 organisations who work with local leaders and communities to provide better water, sanitation and health improvement programs for communities in need.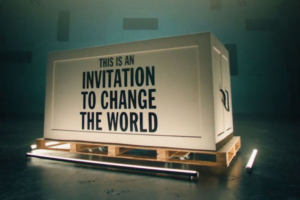 Thankyou's impact partners helped more than 857,000 people in 22 countries have access to basic human needs.
You've probably purchased, used or are a regular customer of Thankyou over the years as their products are stocked in Coles and Woolies. This is a result of their highly engaged community that helped to petition the company to have these supermarkets stock their products.

Its co-founder, Daniel Flynn said that customers buy from them because they're making an impact. He even reiterated that the "new normal" has thrown out the traditional and solely money-making motive to do business. He challenged that the products we choose every day can exist to right a wrong, and we think there are many wrongs to undo right now.

Thankyou's mission to end poverty has only been powered up through a recent bold move by inviting multinational conglomerates, P&G and Unilever to manufacture and distribute their products to the world.

Daniel said they remain hopeful for a positive outcome but if it's a no thanks, they'll try again with other prospects.

The last thing you need is more business uncertainty and losing your customers to the competition. In just two minutes, we'll help you create a simple but effective loyalty and rewards program to keep your customers coming back for more while doing good for the world.
Click here for more information.
Stay ahead of the trends and the competition
Future proof your business by addressing the TOP 3 emerging consumer trends.
Get the best strategic value out of giving discounts
3 irresistible strategies you can deploy this week that'll boost your sales. Suitable for any business – retail, services or e-commerce.